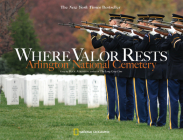 $18.95
Usually Ships in 1-5 Days
Description
---
Arlington National Cemetery spreads across the rolling hills west of the Potomac, a serene and reverent sanctuary for the presidents, soldiers, and heroes famous and unsung alike who lie in eternal rest among its green lawns and quiet glades. It is a roster dating back to America's birth and including many of the foremost names in our history.
Bittersweet, breathtaking, sometimes heart-wrenching, always deeply respectful, this commemorative book guides readers gently over tree-lined slopes to share the ceremonies observed throughout the year, from the traditional wreath-laying on Memorial Day, which enshrines centuries of sacrifice, to the moving graveside services that honor individual men and women who served our country. Captured in stunning color by a select group of gifted photographers, these unforgettable images create a portrait as poignant as it is proud.
About the Author
---
Richard (Rick) Atkinson is founder and president of RA Retirement Advisors, specializing in retirement planning. He is the author of the best-seller, Don't Just Retire - Live It, Love It! and the popular workbook, The First Step. He and his wife, Christine, have 4 children, 8 grandchildren and live in Toronto.
Praise For…
---
"In photographs and text so beautiful, so respectful and so honest that they repeatedly bring tears to the reader's eyes, Where Valor Rests captures the meaning and importance of the nation's most storied graveyard." Dallas Morning News