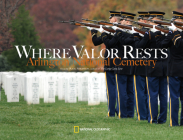 Description
---
Arlington National Cemetery spreads across the rolling hills west of the Potomac, a serene and reverent sanctuary for the presidents, soldiers, and heroesfamous and unsung alikewho lie in eternal rest among its green lawns and quiet glades, a roster dating back to America's birth and including many of the foremost names in our history. A national monument in the truest sense, Arlington's solemn beauty embraces a brave legacya heritage remembered and renewed every day as the military buries its own.

Bittersweet, breath-taking, sometimes heart-wrenching, always deeply respectful, this commemorative book guides readers gently over tree-lined slopes to share the ceremonies observed throughout the year, from the traditional wreath-laying on Memorial Day, which enshrines centuries of courage with a formality at once austere and profoundly emotional, to the moving graveside services that honor individual men and women who served our country. Captured in stunning color by a select group of gifted photographers, 220 unforgettable images create a portrait as poignant as it is proud.

Archival photographs also trace the history of the cemetery from the early National Historic Monument, "Arlington House," to the eternal flame at the Kennedy grave to sections for the lost astronauts and victims of the 9/11 Pentagon attack. With an Introduction by Pulitzer Prize-winning author Rick Atkinson, this lovely volume is both a fitting tribute and a stirring reminder of the values we Americans hold dear.
About the Author
---
Rick Atkinson was a staff writer and senior editor at "The Washington Post" for more than twenty years. He is the bestselling author of "An Army at Dawn, The Long Gray Line, In the Company of Soldiers, " and "Crusade." His many awards include Pulitzer Prizes for journalism and history. He lives in Washington, D.C.


Praise For…
---
"In photographs and text so beautiful, so respectful and so honest that they repeatedly bring tears to the reader's eyes, Where Valor Rests captures the meaning and importance of the nation's most storied graveyard." Dallas Morning News