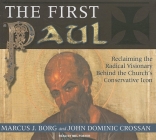 Description
---
Paul is second only to Jesus as the most important person in the birth of Christianity, and yet he continues to be controversial, even among Christians. How could the letters of Paul be used both to inspire radical grace and to endorse systems of oppression-condoning slavery, subordinating women, and condemning homosexual behavior? Marcus J. Borg and John Dominic Crossan use the best of biblical and historical scholarship to explain the reasons for Paul's mixed reputation and reveal to us what scholars have known for decades: that the later letters of Paul were created by the early church to dilute Paul's egalitarian message and transform him into something more "acceptable." They argue that there are actually "Three Pauls" in the New Testament: "The Radical Paul" (of the seven genuine letters), "The Conservative Paul" (of the three disputed epistles), and "The Reactionary Paul" (of the three inauthentic letters). By closely examining this progression of Paul's letters-from the authentic to the inauthentic-the authors show how the apostle was slowly but steadily "deradicalized" to fit Roman social norms in regards to slavery, patriarchy, and patronage. In truth, Paul was an appealing apostle of Jesus whose vision of life "in Christ"-one of his favored phrases-is remarkably faithful to the message of Jesus himself.
About the Author
---
Marcus J. Borg (1942 2015) was a pioneering author and teacher whom the New York Times described as "a leading figure in his generation of Jesus scholars." He was the Hundere Distinguished Professor of Religion and Culture at Oregon State University and canon theologian at Trinity Episcopal Cathedral in Portland, and he appeared on NBC's The Today Show and Dateline, ABC's World News, and NPR's Fresh Air. His books have sold over a million copies, including the bestselling Meeting Jesus Again for the First Time, Reading the Bible Again for the First Time, Jesus, The Heart of Christianity, Evolution of the Word, Speaking Christian, and Convictions.

John Dominic Crossan, professor emeritus at DePaul University, is widely regarded as the foremost historical Jesus scholar of our time. He is the author of several bestselling books, including The Historical Jesus, God and Empire, Jesus: A Revolutionary Biography, The Greatest Prayer, and The Power of Parable. He lives in Minneola, Florida.

Mel Foster, an audiobook narrator since 2002, won an Audie Award for "Finding God in Unexpected Places" by Philip Yancey. He has also won several "AudioFile" Earphones Awards. Best known for mysteries, Mel has also narrated classic authors such as Thoreau, Nabokov, and Whitman.
Praise For…
---
"A refreshing and heartening exculpation of a still routinely maligned figure of the first importance to culture and civilization." ---Booklist Starred Review