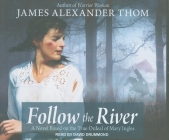 Description
---
This is the extraordinary story of Mary Ingles, a pioneer woman who risked her life to return to her people after being kidnapped and held for months by Indians.
About the Author
---
James Alexander Thom was formerly a U.S. Marine, a newspaper and magazine editor, and a member of the faculty at the Indiana University Journalism School. He is the author of "Follow the River", "Long Knife", "From Sea to Shining Sea", "Panther in the Sky" (for which he won the prestigious Western Writers of America Spur Award for best historical novel), "Sign-Talker", "The Children of First Man", and "The Red Heart". He lives in the Indiana hill country near Bloomington with his wife, Dark Rain of the Shawnee Nation, United Remnant Band. Dark Rain is a director of the National Lewis and Clark Bicentennial Planning Council. The author's Website is: www.jamesalexanderthom.com.

DAVID DRUMMOND received an "AudioFile" Earphones award for his very first audiobook narration effort. Since then, he has recorded nearly fifty audiobooks for many different publishers and in many different genres. He lives with his family in Seattle.