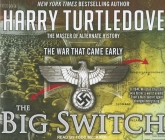 $39.99
Usually Ships in 1-5 Days
Description
---
In this extraordinary World War II alternate history, master storyteller Harry Turtledove begins with a big switch: what if Neville Chamberlain, instead of appeasing Hitler, had stood up to him in 1938?
About the Author
---
Harry Turtledove is an award-winning and best-selling author of science fiction, fantasy, and historical fiction. His alternate-history works include "The Guns of the South", "How Few Remain" (winner of the Sidewise Award for Best Novel), "The Man with the Iron Heart", the Worldwar saga, the Colonization books, and the Settling Accounts series.

Former radio broadcaster Todd McLaren has been heard on more than 5,000 TV and radio commercials; narrations for documentaries on such networks as A&E and the History Channel; and films. His book narrations have earned him a prestigious Audie Award as well as a "Publishers Weekly" Listen-Up Award.
Praise For…
---
"The third volume of Turtledove's latest alternate-historical reworking of WWII, the War That Came Early, is definitely the strongest yet. . . . It is for lovers of high-quality alternate history." ---Booklist Starred Review