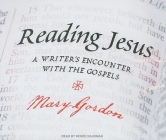 $24.99
Usually Ships in 1-5 Days
Description
---
One of today's most admired writers takes listeners on a fresh and personal journey through the Gospels, exploring the mysteries surrounding Jesus. What she reinterprets is a rich store of overlapping, sometimes conflicting teachings that feel both familiar and tantalizingly elusive.
About the Author
---
In 1981 Mary Gordon founded Canada's first and largest network of Parenting and Family Literacy Centres. In 1996 she went on to found Roots of Empathy, which now reaches more than 20,000 students in eight provinces and has been piloted in Japan and Australia. Gordon is a recipient of an Ashoka Fellowship, The Fraser Mustard Award, and a Distinguished Canadian Educator Award and the Order of Canada. Born and raised in Newfoundland, Gordon now lives in Toronto.

Renee Raudman is an actor and multi-award-winning audiobook narrator. She has performed on film, television, radio, and on stage and can also be heard in several video games and hundreds of television and radio voice-overs.
Praise For…
---
"A fresh and humane take on the Gospels. Gordon's approach is aware of, but not burdened by, doctrine." ---Mark Jarman, award-winning author of Epistles