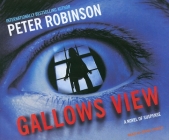 Description
---
Having moved his family to the market town of Eastvale, Chief Inspector Alan Banks is disturbed by a local crime wave and teams up with psychologist Jenny Fuller-to whom he is attracted-to find out who is targeting Eastvale women.
About the Author
---
Peter Robinson is the author of the Inspector Banks novels, including "Strange Affair," which was chosen as one the best books of 2005 by the "Globe and Mail," the "South Florida Sun-Sentinel" and "January Magazine," and of two non-series suspense novels, "Caedmon's Song" and "No Cure for Love," "Strange Affair" has also been shortlisted for the "LA Times" Book Award for best crime fiction novel. He has also published a collection of short stories called "Not Safe After Dark," His novels have been translated into over sixteen languages, and he has won a number of international awards, including the MWA Edgar, the CWA Dagger in the Library, the Martin Beck Award, from Sweden, the Danish Palle Rosenkrantz Award, and the French Grand Prix de Litterature Policiere. He has also won five Crime Writers of Canada Arthur Ellis Awards.
"From the Hardcover edition."
Mark Honan is a British actor currently living in Maine. He trained at the Webber Douglas Academy in London and has worked in repertory on both sides of the Atlantic. He has performed Off Broadway with the Riverside Shakespeare Company and regionally at the Berkshire Theater Festival and Portland Stage Company.
Praise For…
---
"Mark Honan delivers a powerful and affecting performance that will make Banks a favorite for years to come.... A truly compelling listen." ---Publishers Weekly Audio Review