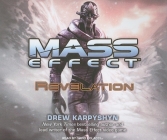 Description
---
From the New York Times bestselling author Drew Karpyshyn comes the thrilling first official novel based on the BioWare video game Mass Effect.
About the Author
---
Drew Karpyshyn is the New York Times bestselling author of Children of Fire as well as the Star Wars: The Old Republic novels Revan and Annihilation, and the Star Wars: Darth Bane trilogy: Path of Destruction, Rule of Two, and Dynasty of Evil. He also wrote the acclaimed Mass Effect series of novels and worked as a writer/designer on numerous award-winning videogames. After spending most of his life in Canada, he finally grew tired of the long, cold winters and headed south in search of a climate more conducive to year-round golf. Drew Karpyshyn now lives in Texas with his wife, Jennifer, and a variety of four-legged companions.

David Colacci has worked as a narrator for over fifteen years, during which time he has won "AudioFile" Earphones Awards, earned Audie nominations, and been included on Best of Year lists by such publications as "Publishers Weekly", "AudioFile" magazine, and "Library Journal".