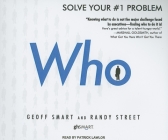 Description
---
It's happened to the best of us. You have a job opening to fill. You interview a range of qualified candidates and hire the best of the bunch-or so you think. You soon realize that the person who seemed like a perfect fit during the interview doesn't have what it takes to do the job. In Who, Geoff Smart and Randy Street, of the management consulting firm ghSmart, combine their experiences training thousands of managers and executives with the most revealing and comprehensive research ever on the subject of how to hire successfully, as well as advice and stories from more than twenty billionaires and sixty CEOs. The result is a simple, four-step method for hiring with confidence, designed for everyone from the CEO on down. Who shows you how to avoid the most common pitfalls of hiring, how to identify "A Players"-people who can perform their job better than 90 percent of the candidates in their field-and how to make sure the best candidate will be excited to join your organization. Hiring is every bit as important an element of successful business as other key principles, such as leadership and strategy. Who should be required listening for anyone in a management position.
About the Author
---
Geoff Smart is chairman and CEO of ghSMART, a leadership firm. He is a bestselling author, and serves as founding chairman of SmartKids Leadership Program and The Leaders Initiative.



Patrick has narrated numerous audiobooks including The Power of Six Sigma, which was a finalist for a 2001 Audie Award. In addition to narrating audiobooks, Patrick is an accomplished stage actor, director and stage combat choreographer. He has worked extensively Off-Broadway and regionally for companies in Utah, Kentucky, Pennsylvania, Wisconsin, Oklahoma, Virginia, South Carolina, Louisiana, New Jersey, New York and all over California, as well as Finland and Germany. Classically trained, his roles cover a wide range, from Vindice in The Revenger's Tragedy and Marc Antony in Julius Caesar to Oscar Madison in The Odd Couple and The Big Bad Wolf in The 3 Little Pigs.
Praise For…
---
"Smart and Street clearly know their field." ---The Wall Street Journal