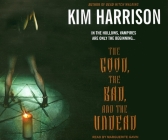 Description
---
Rachel Morgan is back and in more trouble than ever Fans of Laurell K. Hamilton and other vampire novels won't want to miss the second novel in Kim Harrison's addictive supernatural series.Former bounty hunter Rachel Morgan has it pretty good. She has left the corrupt Inderland Runner Service and started her own independent service. She's survived werewolves, shape-changing demons, bad-hair days, and sharing a church with her vampire roommate, Ivy. She even has a cute (if human) boyfriend-what more could a witch want?But living with a reformed vampire isn't all it's cracked up to be, particularly when your roommate's very bad ex-boyfriend wants her back and wouldn't mind you in the process. And especially when he's six feet of sheer supernatural seduction and you've got a demon mark that makes vampires literally hotter than hell.To save herself and Ivy, Rachel must confront the vampire master-and the dark secrets she's hidden even from herself.
About the Author
---
New York Times bestselling author Kim Harrison was born and raised in the upper Midwest. Her bestselling Hollows novels include Dead Witch Walking; The Good, the Bad, and the Undead; Every Which Way But Dead; A Fistful of Charms; For a Few Demons More; The Outlaw Demon Wails; White Witch, Black Curse; Black Magic Sanction; Pale Demon, A Perfect Blood, Ever After, and The Undead Pool, plus the short story collection Into the Woods, The Hollows Insider and graphic novels Blood Work and Blood Crime. She also writes the Madison Avery series for young adults.

Marguerite Gavin is a seasoned theater veteran, a five-time nominee for the prestigious Audie Award, and the winner of numerous "AudioFile" Earphones and "Publishers Weekly" awards. Marguerite has been an actor, director, and audiobook narrator for her entire professional career, and has over four hundred titles to her credit.