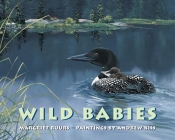 $15.70
Usually Ships in 1-5 Days
Description
---
Placed 3rd in the Picture Book Category of the 2004-2005 Chocolate Lily Book Awards
Nominated for Shining Willow Award (The Saskatchewan Young Reader's Choice Awards)
A gorgeous introduction to wildlife families that features breath-taking art full of hidden surprises for young readers.
The lively alliterative text in "Wild Babies "describes raccoon kits, otter pups, loon chicks, wolf cubs and more. Share the joy as these adorable babies learn to navigate their world of forests, mountains, or lakes. A legend helps to identify objects hidden in each painting, while detailed notes provide added information for budding naturalists.
The perfect book for summer campers, and for armchair campers too.
About the Author
---
Margriet Ruurs is the award-winning author of twenty-six books for children. Passionate about literacy, she writes children's and educational materials, edits the web magazine KIDSWWWRITE, and conducts author visits and writing workshops at international schools around the world. When she isn't travelling, Margriet runs a booklover's bed and breakfast on Salt Spring Island in British Columbia.

Margriet Ruurs is the author of many books for children, including "Wild Babies" and "A Mountain Alphabet." She has a Masters Degree in Education and has spent her adult life both writing books for children and teaching children about books. She has spent a great deal of time hiking and camping in the mountains and traveling. Margriet Ruurs has lived across North America, and now makes her home in Oregon.
Andrew Kiss came to Canada from Hungary in 1957. He grew up in Vancouver, where he taught himself how to paint. He paints wildlife and landscapes and has spent much of his life traveling the world to see his subjects in their native habitats. Andrew Kiss' s work has been exhibited across North America and Europe.
Praise For…
---
"Kiss's illustrations are more than a visual feast…Libraries…should…make room on their shelves for this attractive title."
–School Library Journal

"…Andrew Kiss's paintings of each baby animal or bird [are] richly detailed, each painting a master of realism incorporating the creature's habitat as well as –it seems –every fold of skin, or shading of fur."
–The Globe and Mail

"…this beautiful book includes…richly coloured meticulously detailed painting[s] depicting wild babies in their habitat. A single line of poetic text accompanies each…illustration… Young children will be delighted with the opportunity to discover secrets hiding in each painting… Although Wild Babies is a perfect book for pre-school and primary children, the power of its simple prose and lush paintings will ensure its appreciation by older children. Libraries…will want to add this handsome and informative book to their collection. Highly Recommended."
–CM Magazine