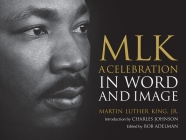 $15.00
Usually Ships in 1-5 Days
Description
---
 MLK: A Celebration in Word and Image is an unprecedented collection of black-and-white photographs combined with stirring quotations by Dr. Martin Luther King, Jr.
 
This treasured collection includes images by legendary photographers such as Henri Cartier-Bresson, Bob Adelman, and Flip Schulke, and is an unparalleled photobiography  that presents intimate moments from King's personal and public journey. We see King in all his manifestations—as a new father and doting husband, as a civil rights champion leading racial protests, and as a charismatic speaker preaching electrifying sermons. Triumphant events like King delivering his "I Have a Dream" speech and marching in Montgomery are beautifully captured,  as are private moments of him reflecting on his Nobel Peace Prize or working in his study.
 
Threaded together, these words and  images chronicle how Dr. King was not only a driving force  for change but also  a continually evolving individual. A collection to savor and celebrate, these great photographs are an enduring testament to the life and legacy of an international icon. 
About the Author
---
Martin Luther King, Jr. (January 15, 1929 - April 4, 1968) was a famous leader of the American civil rights movement, a political activist, and a Baptist minister. In 1964, King became the youngest man to be awarded the Nobel Peace Prize for his work as a peacemaker, promoting nonviolence and equal treatment for different races. On April 4, 1968, Dr. King was assassinated in Memphis, Tennessee. In 1977, he was posthumously awarded the Presidential Medal of Freedom by Jimmy Carter. In 1986, Martin Luther King Day was established as a United States holiday. Dr. King often called for personal responsibility in fostering world peace.King's most influential and well-known public address is the "I Have A Dream" speech, delivered on the steps of the Lincoln Memorial in Washington, D.C.

Bob Adelman is a well-known and respected photo-documentarian and book producer. His photographs have been in collections at the Museum of Modern Art and he has won the Guggenheim Fellowship, the National Endowment for the Arts Grant, and many other awards. He lives in Miami, Florida.

Dr. Charles Johnson, a 1998 MacArthur fellow, is the S. Wilson and Grace M. Pollock Endowed Professor of English at the University of Washington in Seattle. His fiction includes "Dr. King's Refrigerator, Dreamer, " and "Middle Passage, " for which he won the National Book Award. In 2002 he received the Academy Award in Literature from the American Academy of Arts and Letters. He lives in Seattle.