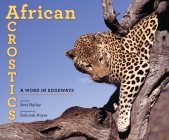 $7.99
Usually Ships in 1-5 Days
Description
---
Look carefully! The wild animals of Africa spring to life in clever, lighthearted poems and compelling, evocative photographs.

Inside every acrostic is a secret message, often lurking in the first letter of each line (read top to bottom). But look out! These acrostics not only follow their subjects to Africa, but they also take the form to a whole new level. Here you'll find the elusive double acrostic (in which the first and last letters of each line spell a message), the cross acrostic (in which the message is read diagonally), and the multiple acrostic (see it to believe it) — not to mention lions, zebras, crocodiles, hippos, leopards, and elephants. Oh, my! Illustrated with gorgeous full-color photographs, this collection is sure to send poetry buffs and animal lovers on an armchair safari they'll never forget.
About the Author
---
Avis Harley was born in Vancouver, British Columbia. She has been involved in education for many years, having taught in schools in Canada and England, as well as at the University of British Columbia. She has written and three books of poetry for children, two of which she also illustrated, and all of which have received high praise. The Parent Council Ltd. selected Fly With Poetry: An ABC of Poetry as an Outstanding Book, and Learning magazine honored the book with a Teachers' Choice Award. Her Leap Into Poetry: More ABCs of Poetry received the ASPCA's Henry Bergh Children's Book Poetry Honor Award and Sea Stars: Saltwater Poems has received glowing critical acclaim from review journals. Ms. Harley lives in Vancouver with her husband.

Deborah Noyes is the author of two adult novels, as well as The Ghosts of Kerfol and other books for young readers. About Plague in the Mirror, her first novel for young adults, she says, I m fascinated by twinship and the idea of another person out there wearing your face in the world and behaving badly. But in this story, the setting is as much a character as the two protagonists. With all those layers of human endeavor, suffering, triumph, vanity the past is like rich, dark soil or an old-growth forest. It s a dense, haunted place, and I guess I m inclined to feel haunted. Deborah Noyes lives in western Massachusetts.