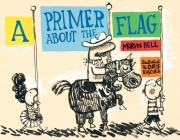 Description
---
What is a flag? Noted poet Marvin Bell and award-winning illustrator Chris Raschka offer a whimsical investigation.

We see all sorts of flags every day. But why do we have them, and what are they for? In a book at once playful and thought provoking, Caldecott Medalist Chris Raschka illustrates Marvin Bell's "A Primer about the Flag," a short poem that raises as many questions as it does flags. Whether brandishing flags that spell out an entire maritime alphabet or little flags that pop out of a gun and say BANG, whether displaying bed-and-breakfast banners or flags on the moon, here is an exploration that may inspire children who are creating their own flags, along with poetry fans and inquisitive minds of all ages.
About the Author
---
Marvin Bell was born in New York City and grew up in Center Moriches, on the south shore of eastern Long Island. Bell's debut collection of poems, Things We Dreamt We Died For, was published in 1966 by the Stone Wall Press, following two years of service in the U.S. Army. His following two collections were A Probable Volume of Dreams (Atheneum, 1969), a Lamont Poetry Selection of the Academy of American Poets; and Stars Which See, Stars Which Do Not See (1977), which was a finalist for the National Book Award. Since then, Bell has published numerous books of prose and poetry, most recently 7 Poets, 4 Days, 1 Book (Trinity University Press, 2009), a collaboration with six other poets, and Mars Being Red (Copper Canyon Press, 2007), which was a finalist for the Los Angeles Times Book Award. Bell's other collections include Rampant (2004); Nightworks: Poems, 1962-2000 (2000); Ardor: The Book of the Dead Man, Volume 2 (1997); The Book of the Dead Man (Copper Canyon Press, 1994); New and Selected Poems (Atheneum, 1987).

Chris Raschka, when not creating award-winning children's books such as Another Important Book, Caldecott Honor Book Yo! Yes, and Caldecott Medal Winner The Hello, Goodbye Window, expands his mind with the poetry of Shelley, Bishop, and Biz Markie.