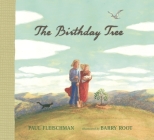 Description
---
Planting a birthday tree has enduring effects in this poignant tale of a roving boy's link to nature -- and the roots of his family's love.
When baby Jack arrives, his father and mother plant an apple seedling to honor his birth. As Jack grows taller, so does the tree. When Jack is happy, the tree limbs stand straight and proud. When he is cold, the leaves tremble on their stems. But one day Jack's parents awake to find his bed empty. When they see a gull perched atop the tree, they realize that their Jack has run away to sea. Paul Fleischman's lyrical prose and Barry Root's magical illustrations tell the story of a boy's powerful connection to his family despite distance -- and adds new meaning to the old custom of planting a birthday tree.
About the Author
---
Paul Fleischman has written novels, plays, poetry, and nonfiction. He has received the Newbery Medal, been a finalist for the National Book Award, and was the U.S. nominee for the 2012 Hans Christian Andersen Award.

Barry Root is the illustrator of many books for children, including "Gumbrella, " which he also wrote; Dream Big"; "By My Brother's Side"; and "Game Day", which received a Christopher Award in the category of books for young people. He lives with his family in Quarryville, Pennsylvania.