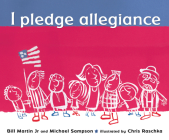 $8.99
Usually Ships in 1-5 Days
Description
---
"Finally, here's a picture book that helps young children move beyond rote recitation of the Pledge to find meaning in its language. This is the book parents and teachers have been waiting for." BOOKLIST (starred review)
"I led a pigeon to the flag" . . . "and to the wee puppet" . . . "one
nation, and a vegetable" . . . What was that again? Children in the United States have been reciting the Pledge of Allegiance since 1892 and for about that long, they've found its big words confusing. Now, beloved children's book author Bill Martin Jr (BROWN BEAR, BROWN BEAR, WHAT DO YOU SEE?), fellow literacy expert Michael Sampson, and Caldecott Honor-winning artist Chris Raschka give America's children a hand, and explain this patriotic poem once and for all. A new paperback edition offers notes and suggested activities to help parents and teachers make this book even more interesting to and fun for children.
About the Author
---
Michael Sampson says, "I have a deep love for this country and the Pledge - I get goose bumps every time I recite it. This book makes the Pledge come alive for kids with language they can understand." Dr. Sampson is the author of many books for children, as well as books about literacy for adults. Chris Raschka is the illustrator of many books, including the concrete poetry anthology A POKE IN THE I, edited by Paul B. Janeczko, a NEW YORK TIMES Best Illustrated Children s Book; and the Caldecott Honor Book YO! YES? Chris Raschka says, "My parents have always respectfully refused to recite the Pledge of Allegiance - my father for religious reasons and my mother because she was born in Vienna. And that s why I was drawn to this project. In America, we each have the freedom to choose, including the freedom to choose whether or not to say the Pledge."