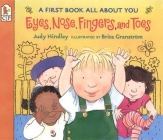 $6.99
Usually Ships in 1-5 Days
Description
---
From a wiggle of their shoulders to a stomp of their feet, a group of lovable toddlers joyfully explores the many ways to use their bodies. Lips can be made small for kissing, while arms can go up and down or reach out to hug those we love. Judy Hindley's jaunty text and Brita Granstrom's playful illustrations are perfect for children as they begin to discover the wonders of their bodies and the joy of learning to move.
About the Author
---
Judy Hindley is the author of EYES, NOSE, FINGERS AND TOES and BABY TALK, both illustrated by Brita Granstrom, as well as DO LIKE A DUCK DOES!, illustrated by Ivan Bates. She lives in England.
Brita Granstrom is the illustrator of numerous children's books, including EYES, NOSE, FINGERS AND TOES and BABY TALK, both by Judy Hindley. She lives in England.

Brita Granstrom's books with Mick Manning include Art School, Nature Watch, The World is Full of Babies (Smarties silver award winner 1996), and What's Under the Bed? (TES award winner 1997).