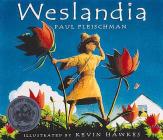 Description
---
WESLANDIA honors the misfits—and the creators—among us.

School is over and Wesley needs a summer project. Having learned that every civilization has a staple food crop, he decides to plant a garden and start his own—civilization, that is. He turns over a plot of earth in his yard, and plants begin to grow. Soon they tower above him and bear a curious-looking fruit. As Wesley experiments, he discovers that the plant will provide food, clothing, shelter, and even recreation. It isn't long before neighbors and classmates have developed more than an idle curiostiry about Wesley and exactly how he is spending his summer vacation. Enter the witty, intriguing world of WESLANDIA.
About the Author
---
Paul Fleischman has written novels, plays, poetry, and nonfiction. He has received the Newbery Medal, been a finalist for the National Book Award, and was the U.S. nominee for the 2012 Hans Christian Andersen Award.

Kevin Hawkes is the illustrator of more than thirty-five acclaimed picture books and chapter books including Library Lion", Weslandia", and Chicken Cheeks". His vibrant colors, unusual perspectives, and sense of humor are hallmarks of his work. He lives with his wife and children in Southern Maine.