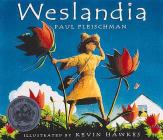 $16.99
Usually Ships in 1-5 Days
Description
---
WESLANDIA honors the misfits—and the creators—among us.

School is over and Wesley needs a summer project. Having learned that every civilization has a staple food crop, he decides to plant a garden and start his own—civilization, that is. He turns over a plot of earth in his yard, and plants begin to grow. Soon they tower above him and bear a curious-looking fruit. As Wesley experiments, he discovers that the plant will provide food, clothing, shelter, and even recreation. It isn't long before neighbors and classmates have developed more than an idle curiostiry about Wesley and exactly how he is spending his summer vacation. Enter the witty, intriguing world of WESLANDIA.
About the Author
---
Paul Fleischman grew up in Santa Monica, California in a house with a printing press, a grand piano, a shortwave radio, and his father children s author Sid Fleischman. Playing recorder in early music consorts led to his books of verbal duets I Am Phoenix, Joyful Noise (winner of the 1989 Newbery Medal), and Big Talk. His novels built from monologues include Bull Run, a 16-character account of the Civil War's first battle, and Seedfolks the chronicle of the first year of a Cleveland community garden. His interest in theater inspired his young adult novels Mind's Eye, Seek, and Breakout, all of which revolve around the spoken word. His historical fiction includes Saturnalia and The Borning Room. He's written nonfiction and picture books as well, including Time Train, Weslandia, and Sidewalk Circus.Alongside the Newbery Medal, he's won a Newbery Honor Book, the Scott O Dell Award for Historical Fiction, the PEN West Literary Award, the California Young Reader Medal, and most recently was a finalist for the 2003 National Book Award. He makes his home in the village of Aromas, California.

Kevin Hawkes has illustrated more than forty books for children, included the "New York Times" bestseller "The Library Lion", "Weslandia", Michael Ian Black s "A Pig Parade Is a Terrible Idea", and "Santa in Cincinatti". He lives in Southern Maine, where he can be found wandering aimlessly in his garden, unless forced indoors, where he creates imaginary landscapes with cobalt blue skies.