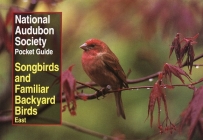 $11.95
Usually Ships in 1-5 Days
Description
---
Waterfowl are a varied and fascinating group of birds. This very portable guide is designed to help you identify these birds in their natural habitats and learn about their habits, life cycles, and history. The guide features 74 species of North American birds associated with fresh or salt water. In addition to the swans, geese, and duck that are traditionally termed waterfowl, it includes a variety of loons, grebes, cormorants, and rails that may be encountered in the same habitats. Also here are tips on birding technique (including the use of binoculars and spotting scopes), identification skills, and watching waterfowl, as well as notes on waterfowl conservation and more.
About the Author
---
Petersen is Field Ornithologist with the Massachusetts Audubon Society.



Puzzability, based in New York, includes Mike Shenk, who has written puzzles for "Games" magazine and its offshoots, and provided daily crosswords for a major newspaper syndicate. He is currently the crossword editor of "The Wall Street Journal"; Amy Goldstein, a trivia buff and wordsmith who has served as associate editor and managing editor for "Games" magazine and its sister publications; and Robert Leighton, an illustrator, writer, "New Yorker" cartoonist, and creator of unique visual puzzles.