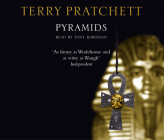 $26.20
Usually Ships in 1-5 Days
Description
---
No. 7 in the Discworld opus: Teppic, a student assassin on Ankh-Morpork, must return home to claim the throne of Djelibaybi on his father's death. But High Priest, Dios, is running the show and manipulates Teppic into constructing a pyramid for his father. And the magic just keeps building up.
About the Author
---
Terry Pratchett is an English novelist known for his frequently comical work in the fantasy genre. He is best known for his popular and long-running Discworld series. His first novel, The Carpet People, was published in 1971, and since publishing his first Discworld novel, The Color of Magic, in 1983, he has written two books a year on average. He was the United Kingdom s bestselling author of the 1990s and has sold more than 55 million books worldwide. In 2001 he won the Carnegie Medal for his children s novel The Amazing Maurice and his Educated Rodents. Pratchett was appointed Officer of the Order of the British Empire for services to literature in 1998 and was knighted in 2009.

Tony Robinson has written many books on historical subjects, including TONY ROBINSON'S KINGS AND QUEENS and THE WORST CHILDREN'S JOBS IN HISTORY. He has written several television series for children including Maid Marion and Her Merry Men for which he received a BAFTA and a Royal Television Award. He presents's Channel 4's archaeology series Time Team, and played Baldrick in Blackadder.