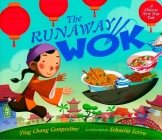 $16.99
Usually Ships in 1-5 Days
Description
---
When a boy goes to the market to buy food and comes home with an old wok instead, his parents wonder what they'll eat for dinner. But then the wok rolls out of the poor family's house with a skippity-hoppity-ho! and returns from the rich man's home with a feast in tow!

With spirited text and lively illustrations, this story reminds readers about the importance of generosity.
About the Author
---
Ying Chang Compestine was born in Wuhan, China, and came to the U.S. when she was twenty-three. Growing up in China during the lean years of the Cultural Revolution, Ying often dreamed of the kind of Chinese New Year celebrated in this book. Aside from playing with her young son and his friends, Ying loves to write, cook, eat, and travel. Consequently, she spends a lot of time writing stories for children and cookbooks for adults. She lives in Boulder, Colorado, with her husband and son.

Sebastia Serra lives with his family in a village near Barcelona, Spain, in a house facing the Mediterranean Sea. He studied at the Faculty of Fine Arts at the University of Barcelona, and has illustrated several books in Spain and in the United States. You can visit him online at www.sebastiaserra.com.