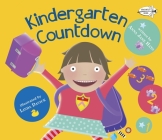 Description
---
""MY SCHOOL STARTS in one week so" "I have SEVEN DAYS to go. Mom says be patient, do not worry. But I can't wait I'm in a hurry ""In this delightful book a little girl counts off the days by naming what she'll do in kindergarten. "I'll be ready, I'll be smart. I will get a running start. I'll say thank you, I'll say please. I will say my ABCs " And deciding what to wear and what to take are all part of her preparation for that exciting first day. With bouncy read-aloud rhyme, bright, fun illustrations, and hidden objects to find on each page, "Kindergarten Countdown "gets children off on the right foot.
About the Author
---
Anna Jane Hays has written and co-edited numerous books for young children, including several Step into Reading Phonics Readers.
"From the Trade Paperback edition."
Linda Davick is the illustrator of several picture books, including the "New York Times" bestseller "10 Trick-or-Treaters" written by Janet Schulman and her own "Say Hello! "and "I Love You, Nose! I Love You, Toes!". She lives in San Francisco in a one-hundred-year-old house by the sea.