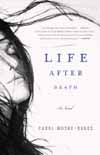 Description
---
"Why don't you just die?" Boyd Schaeffer asks her husband, Russell, one night during an argument. The next day, he does just that. Russell was rich, sensitive, charming, but always unreliable--and it is not clear to Boyd what emotional legacy his untimely death has bequeathed her. Now, she and her young daughter embark on a journey of grief, self-reproach, and self-discovery as funny as it is serious, and so profound and surprising that her individual life, in its quiet midwestern setting, takes on the universal lineaments of myth.
With the help of several unconventional companions--as well as her daughter, who offers a child's instinctive wisdom about life's mysteries--Boyd begins to understand that endings are often also beginnings, that the Book of Life and Death is constantly being rewritten before our eyes.
About the Author
---
Carol Muske-Dukes is the director of the graduate program in literature and creative writing at the University of Southern California. Her most recent collection of poetry, An Octave Above Thunder, was nominated for the Los Angeles Times Book Prize. She has written two novels--Saving St. Germ and Dear Digby--and a collection of critical essays. She lives in Los Angeles. From the Hardcover edition.
Praise For…
---
"An aching awareness of mortality...suffuses every scene in Carol Muske-Dukes' luminous new novel, which turns a tale of sudden loss into an astonishing meditation on love and bereavement."
—Newsday

"Carol Muske-Dukes's writing is filled with poignancy and humor, achieved through her understanding of what
it means to encounter death through the peculiar circumstance of being alive."
—Steve Martin

"In her passionate novel Life After Death, Carol Muske-Dukes takes us right up against the edge where all lives end. Her prose is stunning, as always; and her fusion of grief and laughter and rage is extraordinary."
—Ursula Hegi

"Daring and full of surprises, this story takes on the big questions and holds them up to the light, examining them, shifting them. We see life after death—and life before death—from many angles. In scenes rendered with crisp, lucid prose, we are given a range of perspectives on being human; some are recognizable and some are entirely new."
—Elizabeth Strout