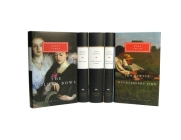 Description
---
An extraordinary collection that features some of the most beloved stories in early American literature, ranging from tales of love and longing to those of personal transformation. With elegant cloth sewn bindings, gold stamped covers, and silk ribbon markers, these classics are an essential for any home library.
Titles included:
"The Age of Innocence" by Edith Wharton
"The Complete Stories" by Edgar Allan Poe
"The Golden Bowl" by Henry James
"Moby-Dick" by Herman Melville
"Tom Sawyer "and" Huckleberry Finn" by Mark Twain
About the Author
---
The Marvel and Other Short Stories is a collected anthology of six short stories written by the winners of the Austin Macauley World Book Day short story competition.

Henry James is one of the greatest American novelists, and spent his last years in England. Among his numerous works are The Ambassadors and The Golden Bowl, his two masterpieces.

Herman Melville was an American novelist, poet, and lecturer best known for his classic novel Moby-Dick, as well as for his short fiction "Bartleby, the Scrivener," and the unfinished "Billy Budd, Sailor." Educated as a teacher and later as an engineer, Melville's writing was heavily influenced by his time aboard the whaling ship Acushnet, and his month-long captivity by Typee natives on Nuka Hiva island. Although Melville experienced success early in his writing career, public indifference to his masterpiece, Moby-Dick, resulted in waning attention, and his work was almost entirely disregarded by the time of this death in 1891. Melville's work experienced a revival in the early twentieth century, and he is now considered one of the pre-eminent American writers of his time. He is also one of the most-studied novelists, and was the first writer to be collected and published by the Library of America.