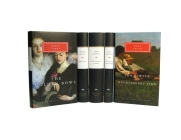 Description
---
An extraordinary collection that features some of the most beloved stories in early American literature, ranging from tales of love and longing to those of personal transformation. With elegant cloth sewn bindings, gold stamped covers, and silk ribbon markers, these classics are an essential for any home library. Titles included:
The Age of Innocence by Edith Wharton
The Complete Stories by Edgar Allan Poe
The Golden Bowl by Henry James
Moby-Dick by Herman Melville
Tom Sawyer and Huckleberry Finn by Mark Twain.