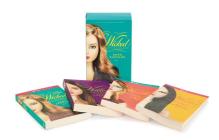 $32.99
Usually Ships in 1-5 Days
Description
---
Once a pretty little liar, always a pretty little liar.
Now that Hanna, Spencer, Emily, and Aria are rid of A, the stalker who terrorized them for months, theyre free to go back to their pretty little lives. Too bad theres a new A in town. And this A refuses to let them forget about Rosewoods darkest secret: the murder of their best friend Alison DiLaurentis. The girls dig deeper for the truthbut someone wants to bury them alive.
Catch all the new drama and scandals in this special box set, which includes wicked, killer, heartless, and wanted, plus a bonus message from Sara Shepard herself! ?
About the Author
---
Sara Shepard is the author of the #1 "New York Times" bestselling Pretty Little Liars series. Her first story ever, which she both wrote and illustrated, was about friendly yellow creatures that lived in a backyard garden. It won second prize at the State College, Pennsylvania, library and was bound and placed on the shelf. Shepard and her sister, Alison, have been creating many joint creative projects for years claymation movies, art installations, and video game designs based on a world they made up when they were six and nine years old. They re pretty sure they re the only ones who find the world funny, though.